Project kicked off – partners take up work
Posted on |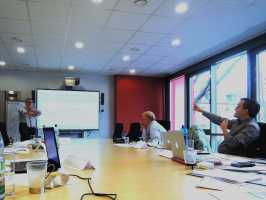 SAM.I. and five partners kicked off their latest civil protection project ADAPT, which aims to improve disaster prevention for vulnerable people. After the official kick-off event in Brussels on 20th January, the group consisting of four Samaritan organisations and the University of Rome Tor Vergata as our research partner took up their work at a meeting in Frankfurt a.M., Germany.
In disaster situations such as floods or earthquakes, the elderly or people with disabilities are particularly vulnerable and require additional attention. However, they are often neglected in existing municipal emergency plans, particularly if they live at home instead of in a care institution. During emergency evacuations, their location and special needs are often unknown to relief workers. The reason for this is not the lack of information, which exists as both formal and informal knowledge, but the lack of structure of this knowledge. ADAPT aims to alleviate this problem by making and keeping this information usable by involving the local communities themselves in improving this part of their disaster resilience. ADAPT is short for "Awareness of Disaster Prevention for vulnerable groups". The project is co-financed by the European Commission's DG ECHO.
SAM.I. is joined by its member organisations ANPAS, ASB, DKFH and WK and the University of Rome Tor Vergata in implementing the project. The first step is to create a survey to gain an overview of existing sources of data as well as information on possible communities to participate in the project. The first working sesssion on 25th-26th January was used to specify the properties of this survey, as the operative partners and the research partner exchanged considerations from the practical and the scientific level. In the coming weeks, the survey will be finalised and used by the operative partners. By the time of the next meeting at the end of April, each partner will have gathered the necessary information to make an evidence-based decision on which community will participate in the project. In the next steps, local action groups will be formed. These groups, consisting of local stakeholders, will be key to the following community-based actions of the project.
The next meeting of the project steering group is scheduled for 27th April.
The slides of the presentation held at the official kick-off event in Brussels are available on the website of the European Commission.